EDITORIAL
Designing a New Curriculum
Fellow learners,

In December last year I shared the story of my time with Juniper and explained a bit about why education matters to me. This time around I want to share the announcement of new Juniper Networks curriculum offerings and talk for a moment about why this matters to you. We in Education Services have from the beginnings of our department been driven by customer outcomes. Our mission is to close network engineer skills gaps, and, in doing so, reduce human error as a risk to production networks. Years of experience has shown us the best way to do this is to stay current with emerging technology and business trends and bring current best practices to our learners. We recently completed a major Global Job Task Analysis wherein we surveyed individuals in over 30 different technical fields related to networking. Through this survey we identified two areas in which we could offer more content targeted at closing skills gaps and reducing human error. I am delighted to announce that because of these findings we are addressing the first of the two areas with the launch of our Network Design Curriculum and Certification track.

Juniper Networks Design Fundamentals (JNDF) is the first release in our new Design curriculum. The course is for network engineers who have a desire to increase their skill set in the earlier phase of the Network Lifecycle to network design. Those with a network operations background will gain a deeper understanding of the principles that drive protocol, platform, software, and service choices to create secure, scalable, high-performance networks. I don't want to sound like an advertisement for the course, but I can't hold back on this one. I've taken a sneak peek at the content and can honestly recommend this class for anyone serious about designing or optimizing secure, scalable, high-performance networks. The class is also great preparation for the new Juniper Networks Certified Design Associate (JNCDA) certification.
The new design offerings are described in more detail in this newsletter so please read on and take full advantage what Juniper Education and our extensive Authorized Education Partner community has to offer.

Best Regards,

-James
James Sonderegger
WW Education Services
WHAT'S NEW
Announcing Juniper Networks Design Training and Certification
Juniper Networks is now offering the first course and certification from its new Network Design curriculum. The curriculum is available to all customers, partners, and IT professionals involved in the development or change of networks or to those looking to enhance their skill set by learning network design.
Available Now!
Juniper Networks Design Fundamentals (JNDF)
This three-day course covers best practices, theory, and design principles for overall network design and will serve as the prerequisite course for other design subject areas — data center, security, and WAN.

Juniper Networks Certified Design Associate (JNCDA)
Designed for networking professionals and designers with beginner knowledge of network design, theory, and best practices, this written exam verifies the candidate's understanding of network design fundamentals.
Why Learn Design
Expand skill set to include earlier phases of the network lifecycle
Gain deeper understanding of principles that drive protocol, platform, software, and service choices to create secure, scalable, and high-performance networks
Learn the process of how an initial RFP becomes a final design recommendation
Reserve your seat in the Juniper Networks Design Fundamentals (JNDF) class

Learn more about the Juniper Networks Certified Design Associate (JNCDA) credential
About the Design Curriculum
When finished, the Design curriculum will include a range of courses on the latest approaches, resources and tools that enable companies to build, expand, secure and automate their networks. The courses will lead to Associate, Specialist, and Professional-level certifications. The curriculum will include coverage of Software-Defined Networking (SDN) and Network Functions Virtualization (NFV) as they relate to network design.

Follow the Design Curriculum at http://www.juniper.net/certification or on Twitter @JuniperCertify.
Juniper Learning Bytes: New Topics
The list of Juniper Learning Bytes continues to grow. Each Learning Byte is a short tip or instruction that provides quick answers, clarity and insight into specific features and functions of Juniper technologies. The latest Learning Bytes include:
Advanced AppQoS
Asymmetric Traffic with a Flow Based Device
Automating VLAN provisioning on multiple Junos devices using Puppet for Junos
Basic AppQoS
Creating a Junos Sandbox with vSRX and VirtualBox
Filter-Based Forwarding with a Flow Based Device
High Availability Switching with SRX Series Devices
Implementing BGP over IPsec
Implementing OSPF over IPsec
IS-IS Configuration
Master RE Console
Returning an EX Series Virtual Chassis Device to Standalone Mode
SSM Features
Using Generated Routes
New Learning Bytes are added on a regular basis. If you're not already viewing Learning Bytes, be sure to take advantage of this free training resource and see how Learning Bytes will help expand your knowledge bit by bit.
View Learning Bytes at www.juniper.net/learningbytes or www.youtube.com/junipernetworks.
Calling All Sleuths! Network Scavenger Hunt!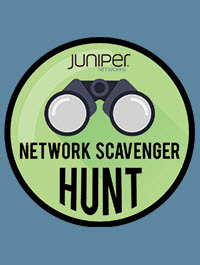 Be on the lookout for code words hidden in Juniper Learning Bytes. They're part of Juniper's Network Scavenger Hunt videos. Learn more
COURSE DEVELOPMENT
Updated: MX240, MX480, and MX960 3D Universal Edge Routers Overview and Deployment
This Web-based training (WBT) is a self-paced course that provides an overview of the MX240, MX480, and MX960 3D Universal Edge Routers, and describes the procedures required to install and configure each device. Watch it now.
NEW! CSE2000 Carrier Services Engine Overview and Deployment
This Web-based training (WBT) is a self-paced course that provides an overview of the CSE2000 Carrier Services Engine, and describes the procedures required to install and configure the CSE2000. Watch it now.

View http://www.juniper.net/courses for the full list of courses available from Juniper Networks Education Services.
CERTIFICATION
"Smart" is Very Much a Relative Thing…
A blog post by Jasun Rutter, Education's Manager of Curriculum Development, About the New Design Curriculum

Taking a cue from a colleague of mine, "smart" is very much a relative thing. At times throughout my career I have thought, "I am one sharp dude!" Then I am quickly put back into my place by someone or something that proves just how not sharp I really am. Read more…

Q1 Education and Certification Webcast Recording Featuring vMX
The PowerPoint, video, and Q&A document from our Q1 Education and Certification Program webcast are now available.

This 50-minute webcast featured Ariful Huq, Senior Product Manager, discussing Virtual MX (vMX), Juniper's carrier grade virtualized routing product. Ariful covers an introduction of the product and talks about use-cases as a VNF (Virtual Network Function) as well for lab testing.

In addition, Elna Samuelsen, Director, Education Development, Infrastructure, and Certification Program; Jasun Rutter, Manager, Curriculum Development; and Lawrence Rust, Education Services Marketing, provide information on:
Certification program changes and updates
Additions to our course curriculum
New Labs and Learning courses
Update on Juniper Learning Bytes program
Watch the recording now!
Certification Program: Did You Know?
Did you know...Updating or creating a new expert-level exam is, on average, a six-month process. This includes an exam workshop with several industry experts, the building of the topology, acquiring the necessary equipment, an alpha process, and a beta process. The initial group of experts also has several follow-up meetings to make the necessary adjustments and grant approvals to any alterations.

Did you know...Juniper Networks certifications are created and updated using rigorous pyschometric standards, making them defensible in a court of law.
JNCP in Social Media
Engage with your peers
Learn from your fellow networking professionals on our Training and Career Forum on J-Net. Discuss certifications. Exchange preparation tips. Get answers to your questions. Join the community.

The JNCP team is committed to developing a world-class certification program that meets the needs of networking professionals. We welcome any feedback you have on the program and these changes. Please let us know by posting your thoughts in our Training and Career Forum on our J-Net Forum.

You can also follow us on Twitter@JuniperCertify.
PARTNER NEWS
Partner Showcase
To help Juniper Networks provide training worldwide and in local languages, we have created partnerships with Juniper Networks Authorized Education Partners (JNAEPs) that maintain the same goal of excellence in training.
Each quarter we highlight several JNAEPs to feature their training business, Juniper courses offered, and expertise. This quarter we highlight Jutel in EMEA, CTC Technology in APAC, and SDN Essentials in the Americas.

Name:
Jutel, www.jutel.co.za or www.facebook.com/JUTEL.co.za

Training Location(s):
South Africa
Courses Taught:
AJSEC, IJOS, JIPS, JRE, JSEC, JEX, JIR, bootcamps, Service Provider courses on demand
Expertise:
Our challenge within the African market is that most of the networking engineers are "Jacks-of-all-trades" and they have to support a multitude of vendors with only a handful of these engineers that specialize within a technology in their career paths. As a result, we focus on the practical side of the Junos courseware associated with the theory portion. In Africa, engineers are often required to sit in on "training" provided by the supported networking vendors and they have a fair understanding of the theory; however, post the course, they are often not involved in the day-to-day hands-on practical implementation and troubleshooting. To meet this challenge, we provide additional lab days for students that have attended our classes to assist them with more hands-on-time. With this approach we have noticed that the expertise level and overall confidence has improved, we are seeing course attendees returning on more advanced courses with relevant experience. The follow-up classroom discussions with the same engineers are not focused on the basics anymore but on solving the complex issues that Enterprises and Service Providers face daily, and it is the engineers that provide most of the pieces of the puzzle, with the instructor assisting in providing solutions for the unknowns.

We are also utilising our expertise to improve pass rates. What we offer in this regard is instructor-led exam preparation facilitation whereby the exam candidates present back to the instructor the exam topics with practical lab demonstrations prepared by the candidates. This approach assists the candidates in understanding where the gaps are and which areas still need more studying. This approach also contributes to the Juniper Partner level being sustained or improved.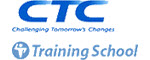 Name:
CTC Technology Corporation, www.school.ctc-g.co.jp/juniper/, kyouiku@ctc-g.co.jp, +81-3-5712-8700
Training Location(s):
Tokyo, Japan
Courses Taught:
CJFV, IJOS, JEX, JIR, JRE, JSEC
Expertise:
CTC Technology Corporation can deliver courses across routing, switching and security.

Our instructors are very experienced and provide a high-quality Juniper training experience



Name:
SDN Essentials, http://sdnessentials.com/events/juniper-training/, classes@sdnessentials.com
Training Location(s):
Chicago, IL, Dallas, TX, Denver, CO, Herndon, VA, New York, NY, Online, San Francisco Bay area
Courses Taught:
AJER, AJEX, AJSEC, AJSPR, CMC, IJOS, JAUT, JEX, JIR, JMV, JNDF, JRE, JS-ND
Expertise:
Most of our instructors are both trainers and PS Engineers, which brings real-world examples and expertise to the classroom. We specialize in automation, programmable networks, cloud design, and orchestration.

SDN Essentials is a professional services company focused on SDN Education and Training, Professional Consulting, and Managed Services. We are the one-stop SDN shop to plan, build and execute your SDN strategies and your customers'. We provide a thorough and real-world understanding of SDN and help bring quicker service offerings, additional revenue, full visibility and control into networks.


Academic Alliance Program
Academic Alliance Program Updates
National Cyber Defense Competition (NCCDC) Finals
National Cyber Defense Competition (NCCDC) finals were held in San Antonio, TX in April. This event is now bannered as "Powered by Juniper", and we are the network for the competition. All eleven finalist teams nationally (and a number of the regionally competing teams) have learned the Junos OS in order to be able to compete effectively. The winning teams this year are University of Central Florida in first place, with University of California, Berkeley and Rochester Institute of Technology placing second and third place. This year the teams protected their utility and power plant from the red team whose objective was to take down the utility network and take over the "company" systems and applications. The Panoply "Capture the flag" event one evening provided great team on team competition with additional prizes.

Juniper Academic Bootcamp Series

WASTC Conference at Cal Poly Pomona, CA, United States
2015 is the first year we were invited to participate at the faculty training event at the Western Academy Support and Training Center preconference. During the preconference days to this traditionally Cisco training event, our Juniper academic bootcamp had 15 participants who learned the Introduction to the Junos Operating System (IJOS) and Junos Routing Essentials (JRE) classes leading to JNCIA-Junos certification and a good a start to taking the Juniper technology back to their respective campuses.

Queen Mary University of London (QMUL) United Kingdom
We are delighted to have delivered a second successful Juniper Academic Bootcamp at QMUL at the beginning of June where students attended both IJOS and JRE training courses. The event also provided Juniper partners with the invaluable opportunity to enhance their internship and graduate recruitment initiatives by participating as guest speakers at the event and meeting students. The Juniper partner visit was particularly well received by students as a great value-add to the event.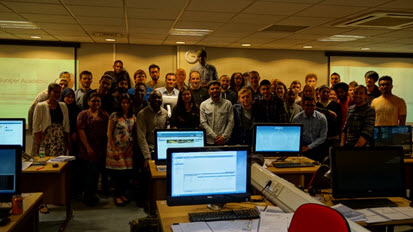 Hogeschool Utrecht (Netherlands)
The largest EMEA Juniper Academic Bootcamp to date will take place at Hogeschool Utrecht the end of June which will be attended by approximately 130 students who will be working towards attaining their JNCIA certification. Not only will this be the largest event to date but also the first event with mutual cooperation between Juniper Networks Academic Alliance (JNAA) members with both students from Hogeschool Utrecht and Lillebaelt Academy of Higher Education (Denmark) attending the event. Juniper partners will also have the opportunity to participate in the event and promote their internship and graduate placement opportunities to students.
Welcome, New Academic Alliance Partners
Interest in the program continues to build and we are thrilled to extend a warm welcome our newest JNAA members.
Americas
University of Massachusetts, Amherst, Massachusetts, United States
Lake Sumter State College, Florida, United States
Kean University, New Jersey, United States
Milwaukee Area Technical College (MATC), Wisconsin, United States
South Central College, Minnesota, United States
Seneca College, Ontario, Canada
EMEA
Slovak University of Technology, Slovakia

Asia Pacific
Institut Teknologi Sepuluh Nopember, Indonesia
| | |
| --- | --- |
| | We are proud to be associated with these institutions and look forward to a long and meaningful alliance. |